General American's TankTrain system of interconnecting tank cars provides shippers with a quick and cost-effective method of moving large volumes of bulk liquids. The TankTrain system consists of an entire string of cars that can be loaded or unloaded from a single System connection. The last car in each set (of 12 cars) is left 3/4 full. Then nitrogen gas (non-flammable, non-toxic) is used to purge the loading lines of any remaining oil which fills the last car.
Capacity (gal.)  Car Type             Sample Commodities

14,500           GS, Acid             Phosphoric Acid

20,000           Exterior Coiled      Fuel Oil, Crude Oil

26,000           Coiled, Non-Coiled   Various chemicals

30,000           Non-Coiled           Gasoline

33,500           High Pressure        LPG

Key Features
* Single-point loading and unloading boosts safety level and lowers costs
* Faster loading and unloading rates decrease turnaround time
* Interconnected railcars mean more effective vapor collection and reduced chance of spillage
The TankTrain System was first tested by the Alaska Railroad. In 19?? the ARR purchased two sets of three that were linked together. They didn't stay that way though and eventually wound up as individual cars. Some ARR crew members felt they were more bother than they were worth. The cars had to be kept turned in a certain direction which wasn't always operationally easy. If one car was Bad Ordered then the whole string had to go in the shop. The ARR ceased using them in 19?? and they were all shipped to the lower 48. A much updated version of the TankTrain was later fielded for the Southern Pacific "Oilcan" that went from central California, over Techachapi Pass, to Los Angeles. Later, the run went from Mojave to L.A., but was eventually retired in 1997.

Note: On 4/9/99 Eric Dillinger informed me, "Here is what is currently going on with the Tank Train. In 1996 Unocal built a terminal in Mojave. One train of 72 cars originates here each day. They go to the Unocal (now Tosco) oil refinery in Carson, CA. However, in December 1998, I was there. The Tank Train cars were at the loading facility with some back up cars in the Mojave Yard. The tankcars now carry placards, 1267 -- for crude oil. Incidentally, not only are the Tank Train cars still active, there are more now. In 1996, Mobil Oil began shipping crude oil from San Ardo on Southern Pacific's (I still call it SP) Coast Line to the Mobil oil refinery in Torrence, although it is unloaded in Carson and travels by pipeline the rest of the way. The last I heard this was a tri-weekly train of 72 cars each."
Subject: Bad news for tank train
Date: Wed, 26 May 1999 13:28:39 -0700
From: Eric A Dillinger
To: John's Alaska Railroad Web Site
According to the Bakersfield Californian, Tosco will stop sending crude oil to its Wilmington/Carson refinery by train. The Mojave terminal will be mothballed unless another company wants to buy it. The address of the article is http://www.bakersfield.com/oil/i--1284459106.asp. As far as I know, Mobil is still using the oil cans (tank train). I have never seen anything on Mobil's web site about the oil cans. So far Tosco does not have anything in its web site about them stopping the use of the oil cans.

Thanks to Eric Dillinger for providing me this information!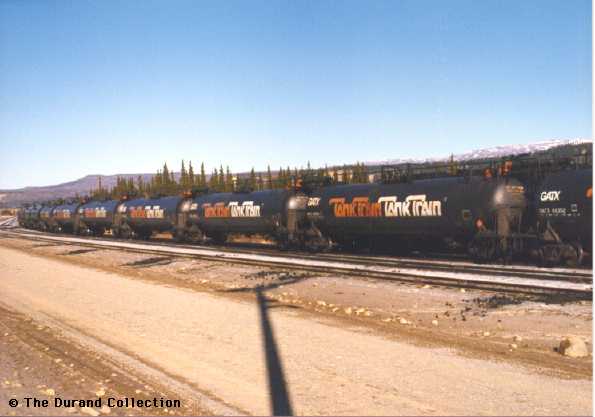 ---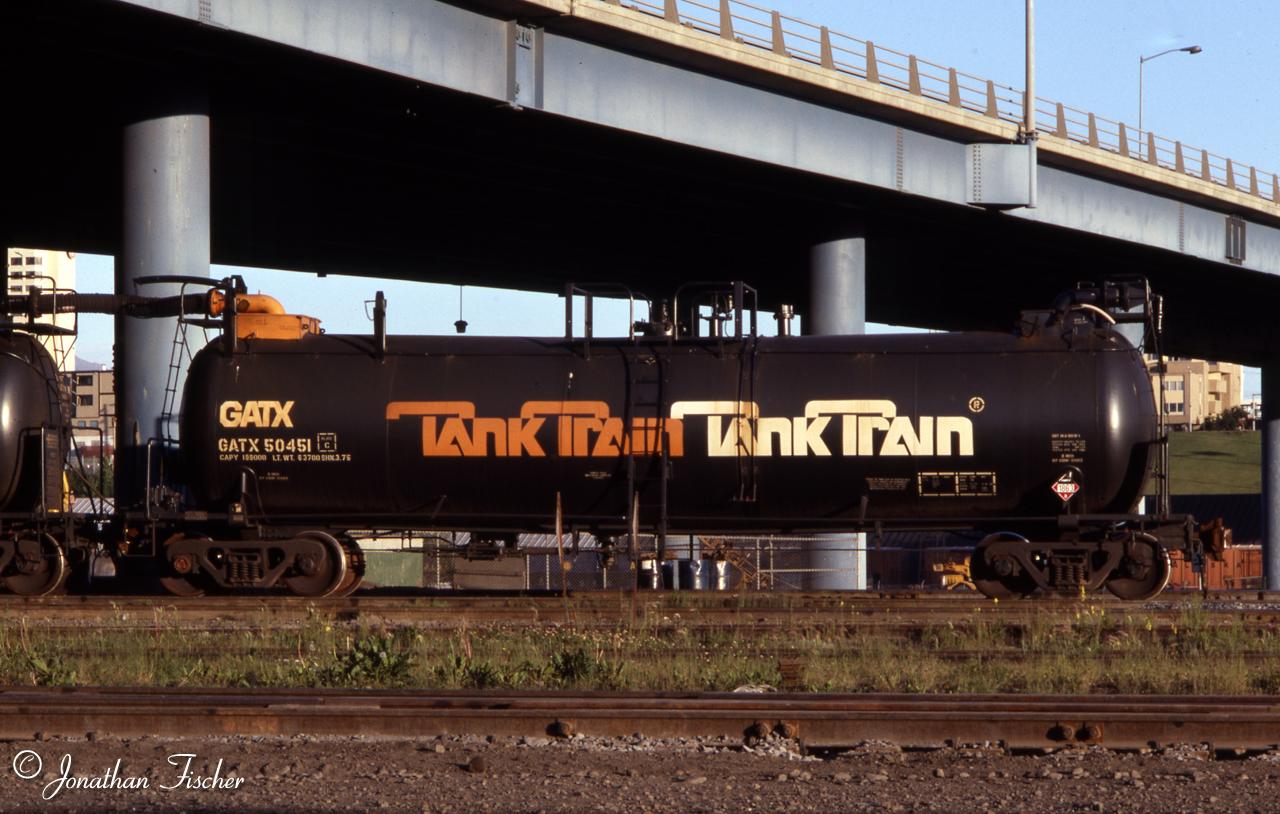 Anchorage, September 1985.
---

Added 3/9/10:
CN (Canadien National) is handling tank trains on a regular basis since the late 1990's in the province of Quebec, Canada.
We run 2 unit trains per day, each train has 68 cars, 4 string of 17 cars. One loaded train from St-Romuald QC to Montreal-East QC, and at the same time we run 1 empty train from Montreal-East QC to St-Romuald QC.
Above that we also run a third train with three strings every 2 days from St-Romuald QC to Maitland ON and return. This train actually leaves St-Romuald with 4 strings of 17 cars and will drop one string in Quebec City where it will go on a regular train from Chatham NB.
The whole patern for these 3 trains uses 15 strings of 17 cars.

Benoit Lachaine
Superviseur / Supervisor
CSCT Montréal / CTSC Montreal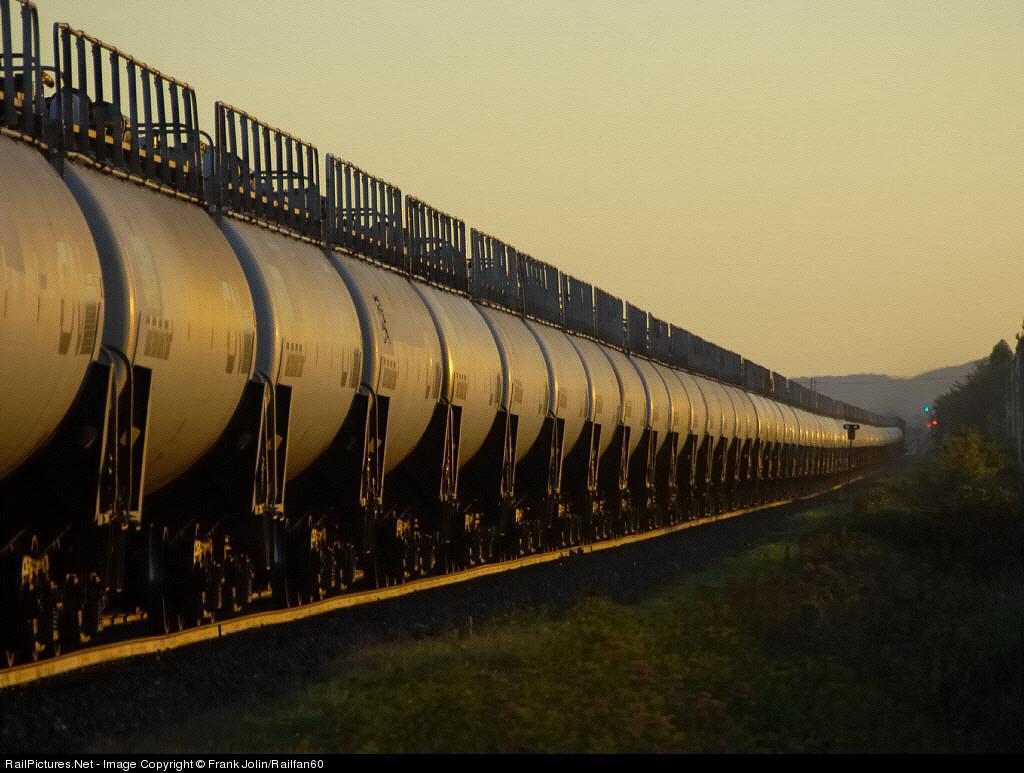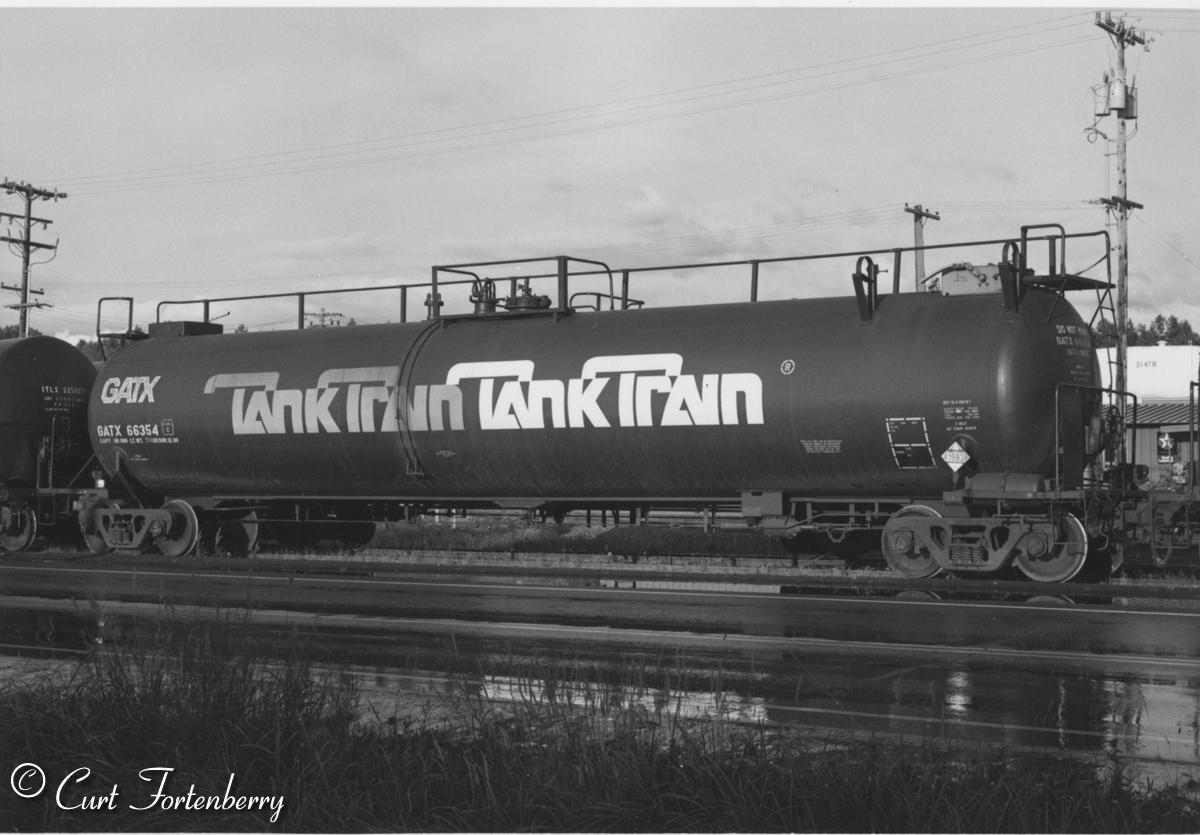 "This is a shot I took of one of the Tank Train cars in Anchorage. I'm trying to find the negative to get the date, it'll either be mid-80's or early 90's. I first saw these cars when I got to Alaska in 1979. As far as I ever saw, they never used the connecting pipe."
See also:
© 1998-2014 John Combs unless otherwise noted