DMU #751
"The USDA Forest Service (USFS) and Alaska Railroad (ARRC) are partners in developing a new Whistle Stop Service that will provide a variety of world-class recreation and transportation opportunities for users of the Chugach National Forest. The project includes development of five sites between Portage and Moose Pass that will be accessible by rail and interconnected by trail."
The railroad component, DMU #751(Chugach Explorer), is a joint project between the U.S. Forest Service and the Alaska Railroad. A $4.7 million Forest Service grant, administered by the Federal Transit Administration, was used to purchase this double-deck self-propelled railcar. Number 751 has two 600hp engines, two big transmissions, a generator, 500 gallons of diesel fuel, potable water and is ADA compliant. It seats 185 plus up to 125 standees. It goes from 0 to 55 mph in 49 seconds and has a top speed of 90 mph.
Colorado Railcar Manufacturing (CRM) constructed the unit, but unfortunately met their demise before completion. A facility in Hudson, Colorado completed the work. DMU 751 ran for the first time on Thursday February 19th, 2009. "In the first hour after emerging from the shop building at the final assembly location in Hudson the car was undergoing running tests with about 20 miles logged Thursday and another 20 plus miles on Friday. The initial quality and performance of the car was fantastic thanks to the dedicated and talented former employees of Colorado Railcar."
The Alaska Railroad has retired all of its RDCs and these DMUs will hopefully be the future for the low-volume passenger routes on the railroad. Perhaps we can expect to see more in the future from the ashes of CRM?
"I have attached some shots taken today in Hudson, Colorado of the testing of DMU 251" - From Richard Bell, 2/25/09
---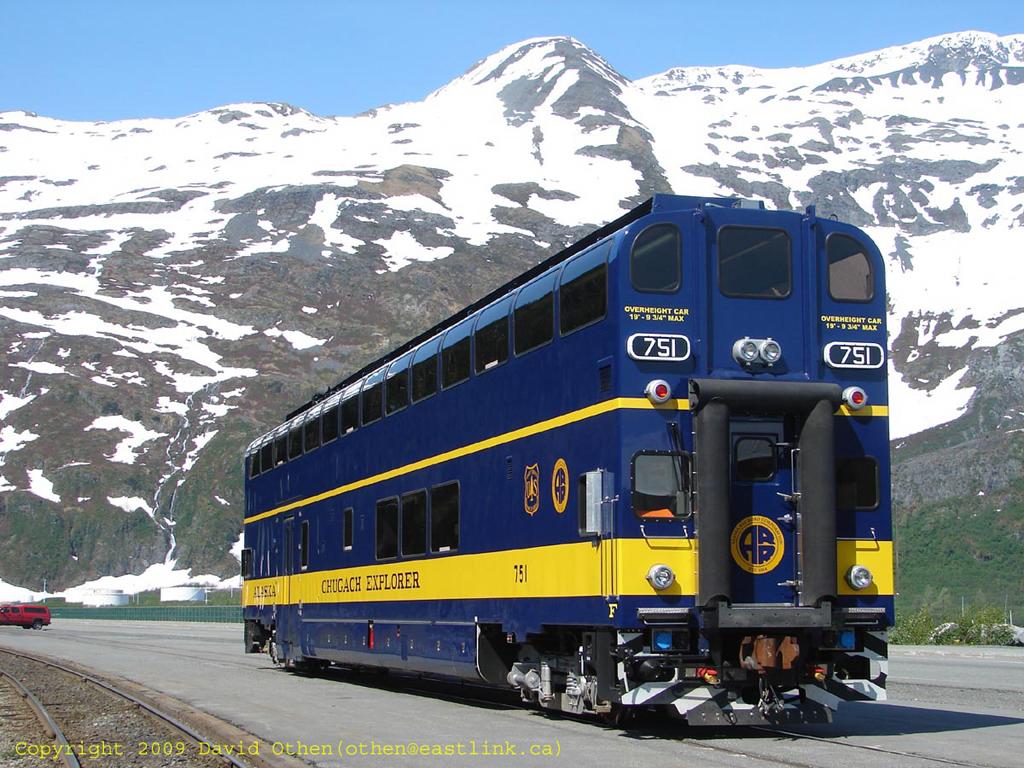 No. 751 in Whittier, May 26, 2009
Photograph courtesy of David Othen
"As reported earlier, Alaska Railroad has just begun to operate a double decked self-propelled diesel multiple unit (DMU) built by Colorado Railcar. It can act either as a self propelled unit or when more passenger capacity is needed as a cab control car. There are two Detroit diesel engines one of which has already been replaced under warranty! The unit is numbered 751 which may indicate that the horsepower is 700 hp though the engineer thought it was 1250 per engine which seems rather high to me. I rode 751 to Whittier and back yesterday. It was operating on its own. The ride and the crew were fantastic. Very friendly and willing to answer any question. 751 has 24 tables each with four seats on the upper level and clear view through the front and rear windows. There is even a padded seat for photographers to kneel on as well as small marble-like topped ledges at each end of the car The ride is extremely comfortable and nominal top speed is 79 mph - I gather we did 60 mph on certain stretches where it is permitted. On the lower deck there is a cabin for the engineer at each end which occupies 1/3 of the width of the car. The conductor sits in a wheel chair on the side opposite the engineer! Passengers can take photos through the central window! Yesterday was bright and sunny and the views along Turnagain Arm were tremendous. On the way back the engineer stopped so we could watch two grey wolves climbing a snow gully and later backed up so that we could watch the bore tide. What an incredibly friendly but very safety conscious railroad! I have posted a photo of the unit." David Othen, Dartmouth, Nova Scotia, Canada
---
DMU 751 Photos
Marty Bernard
June 4, 2009
| | | |
| --- | --- | --- |
| | | |
| Whittier | Whittier | Sand box |
| | | |
| Spencer | Spencer | Interior |
| | | |
| Interior | Snack bar | Stairs |
| | | |
| Engineer's controls | size comparision | |
---
DMU 751 Dedication
Louis Friend
July 2009
See Also: