Royal Gorge Route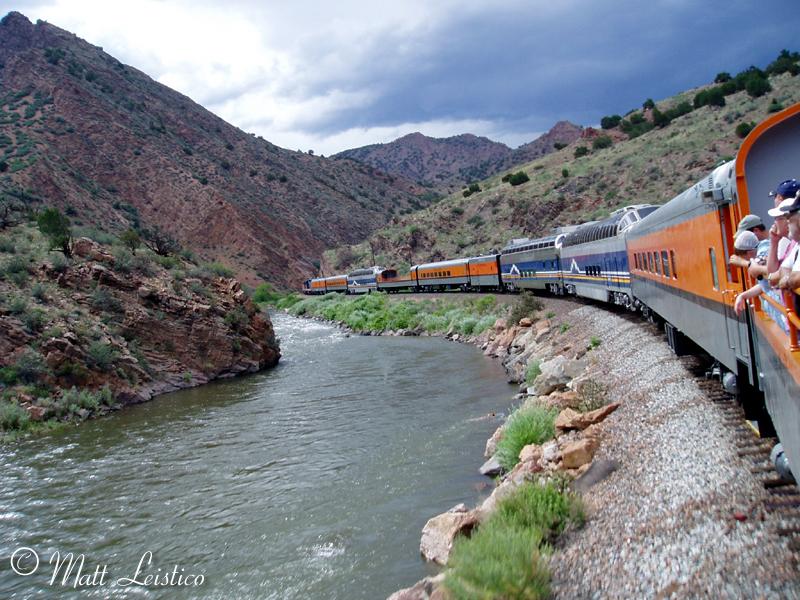 Working up along the Arkansas river. July 20, 2006
Photo courtesy of Matt Leistico
While visiting his mom in Colorado, Matt Leistico rode the Royal Gorge Route (RGR) railroad. It gave him an opportunity to view the three former McKinley Explorer railcars that now call Canon City home. Numbers 50, 56, 507 (in 2005) and 553 (in 2006) will keep their current paint scheme, but are now sporting the RGR logo.
---
Related news articles
Former McKinley Explorer railcar deliveries - 9/22/05
Submitted by Stephen Peck, Colorado Railcar Manufacturing
On 5 October, I will fly to Seattle to ride these railcars to their new home, Canon City.
Of note is that these domes were restored by Tom Rader's first railcar company in Tillamook. In the 1980s, they were owned by Mr. Rader and operated in Alaska under "Tour Alaska", which Princess bought out in (I believe) 1989.
See http://www.royalgorgeroute.com/domeservice.htm for complete information.
.
Royal Gorge Route Railroad purchases Holland America railcars - 9/17/05
Submitted by anonymous sources
The Royal Gorge Route Railroad has purchased Holland America's Pullman superdomes HALX 50 and HALX 56 formerly of the CMSP&P and the Susitna, HALX 507, formerly of the ATSF. The plan is to keep the existing paint scheme minus the logo as they fit with their current VIA scheme. Tentative ship date from Whittier, Alaska via barge is Thursday, September 29. The Royal Gorge Route Railroad is hoping to have the Budd car operational by November 1, assuming everything goes as planned with shipping, etc. They will use them for "observation dome class" and will use the Pullmans as upgrades for dining as well. They hope to have one of the Pullmans on the train by December 1.
---
Related links
Page created 8/2/06 and last updated 8/11/06