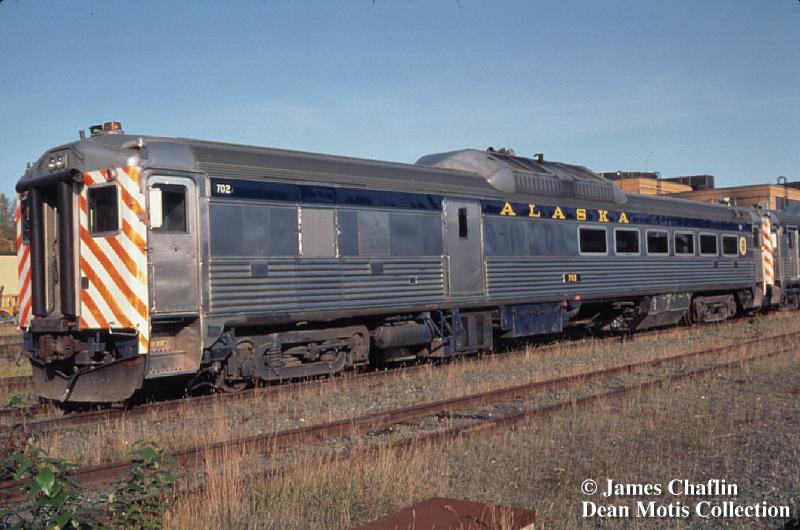 RDC unit #702 in Anchorage, 10/3/97

Photo courtesy of James Chaflin
Dean Motis Collection
The Budd Co. constructed 404 Rail Diesel Cars (RDC) from 1949 to 1962. Currently, there are less than 50 RDCs in operation.
Alaska Railroad RDC #702 was rebuilt along the lines of the BCR units. It has 300hp Cummins, 6cyl.and a Voith transmission. It was built as RDC4 converted to RDC2 by NH&H then reconverted from RDC2 and has a larger baggage areas than the RDC3s 711 and 712.
The RDC provides access for the people that camp, fish or have cabins in the road less area between Talkeetna and Hurricane. The RDCs are also sold as "Charter Trips" throughout the years. There is a year round once a month RDC Passenger run from Anchorage to Hurricane and return on the first Thursday of the month. This allows the cabin people to come to town for extended time for shopping, appointments and such.
Thanks to Frank Dewey for providing this information
Added 10/18/08: "The Budd RDCs went to Fairbanks for their annual inspections and maintenance. It was determined their electrical problems were just too costly to be repaired economically so they are all going to be retired immediately. All four have made their last revenue trips and now will be put out for bid."
Added 10/18/09: RDCs 702 and 711 were purchased by TriMet in Portland, Oregon. They will supplement the Colorado Railcar DMU trains used on their "WES" service.