Friday, August 17, 2012
After a trip to the grocery for some munchies and the gas station for fuel, Casey and I were ready to head to south. Today I would get to ride on the Wilderness Express. It's always fun to take a trip on the train especially when someone wrangles you a free ride! Casey Durand and I would chase the passenger train to Whittier and then head to Seward where I would catch a Wilderness Express railcar for a ride back to Anchorage. Although the day was a bit gray and overcast, Alaska was out in all her beautiful and made for some awesome photos.
| | |
| --- | --- |
| | |
| Wispy clouds over Cook Inlet | Mighty gold and blue making her way |
I always consider driving through the 2.5 mile Anton Anderson Memorial Tunnel a real $12 foamer treat. Not only is it the longest highway tunnel in North America, but it is shared with the Alaska Railroad as well. Casey's brother Shane worked on the project to widen the tunnel for auto traffic in 2000 so I heard lots of construction stories as we cruised through the tunnel. I must admit I always love hearing those jet turbine exhaust fans as I pass under them.
Whittier is one of the most unique towns I have ever visited. There is basically just one road in town and a handful of businesses. Over 90% of the residents live in the Begich Towers apartments and each year's high school graduating class has only a handful of students in it. Now that cruise ships have begun docking here the town as well as the economy have begun to grow. A cruise ship passenger unloading facility was built and several new tourist oriented businesses have sprung up. However, the big money project was the road at Shotgun Cove.
As former City Manager Mark Earnest once told me, "Having land with no access is like having money in the bank you can't access. It does you no good." Over time political representatives were able to secure millions in state and federal funding to construct a roadway through this 600-acre parcel of land. Since Whittier has basically been land locked, the road will provide new residential land as well as areas for recreational use. Casey took me on a drive along this new road and I must admit I was impressed by all the work that was completed since my last excursion here in 2006. The project still has a long way to go, but it was exciting seeing the effort as well as the potential the area has to offer. On the way back we stopped at the abandon Buckner Building to hunt for a geocache (I just couldn't resist!) called "Whittier Man." We vigorously hunted around for about ten minutes before I made the find. Casey seemed enthralled by it all and pledged to do some geocaching with Jean in the future. We also made a stop at the Whittier museum to soak in a little bit of history.
| | | |
| --- | --- | --- |
| | | |
| Begich Tower apartment building | Whittier boat dock | It's sled dog time! |
| | | |
| Road to Shotgun Cove | Great glacier view on the drive | Phase III of the road construction project |
| | | |
| "Hey Casey I found the cache!" | Whittier museum | |
The drive from Whittier to Seward is 88 miles and takes about 1 hour and 53 minutes. The Casey Durand Express was determined to make it in a great deal less time. We had things to see and place to be so this was not much time to stop and smell the roses. Remember the Memorex commercial of the guy sitting in a chair in front of his music system? Well, the ride was something like that!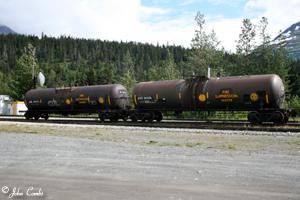 Before arriving in Seward we spotted a pair of fire suppression tank cars and we stopped to get a photo. The railroad fills these with water and parks them around the railbelt. If there is a fire in a remote location the Forest Service could drop a hose from a pumper truck to one of these and refill.
Upon arrival in Seward we immediately headed out to the Silver Derby Campground & RV Park at Lowell Point. There we would be given a tour by manager Sue Lang of the new railroad themed project currently underway. As we pulled into the gravel parking area, barking dogs alerted Sue to our presence and she came out and greeted us. As we walked around the property Sue explained that her boss, Jack Powers, had purchased two ARR passenger cars and intended to refurbish them for commercial use. The first car we encountered was number 5. Built in 1916 it served the ARR until 1960 and finally became the Seward Chamber of Commerce building. Sue explained this railcar would be converted into a dining car/restaurant. Next, we came to bi-level car #600. It was built in 1954, the ARR obtained it in 1990 who sold it to Alaska Metals Recycling in 2005. Allan Choy purchased it to as an addition to his Alaska Inn on the Old Seward Highway in Anchorage. Long story short, city officials eventually put the air brakes on his plan and he sold the railcar at a loss. Sue intends to refurbish this car for use as two nightly rental units. I promised Sue when her project was complete that I would advertise for her for free on my website.
| | | |
| --- | --- | --- |
| | | |
| Number 5 has a beautiful view overlooking the water. | Number 600 has lost a few windows due to vandalism. | The railcars sit on one of the prettiest stretches of beach in Alaska |
We still has a little time before my train departure so we visited a few points of interest. Casey sped past the world famous Buoy Tree so I could do a drive by shooting (using my camera). If I were to ever decorate an outdoor tree in Seward for Christmas, this is pretty much how I would do it. We also drove out to Exit Glacier to do an earth geocache which involved taking a photo of us with it in the background.
| | | |
| --- | --- | --- |
| | | |
| Buoy tree | Exit Glacier earth cache | Near Exit Glacier |
I must admit I was as excited as a cat in a room full of mice in anticipation of riding the bi-level car. Casey greased the skids with my car steward and I was soon onboard and heading down the tracks. I spent almost all of my time haunting the viewing platform, snapping pictures and feeling the cool Alaskan breeze fly through my hair. Surprisingly, very few people ventured out onto the platform and when they did their stay was generally short. They'd pop out when the scenery was especially stunning and then retreat to their seat. As an added benefit I was on the last train car which permitted me to get the best "train on a curve" photos.
Usually I will hear at least one interesting remark by a tourist during any given train trip. On this trip it came from a friendly middle-aged woman who wanted to know if we would be lucky enough to see any polar bears on the trip. The onboard tour guide gently explained that we were a tad bit too far south to see any.
When the train popped out along Turnagain Arm I noticed a familiar white SUV following us. Yes, Casey Durand was chasing the train while taking photos of it through the windshield. At one point he stopped and used his compact digital camera to capture some video including a short segment where I am waving back at him from the rear of the train (click here for the 3.8 MB video clip). A jaw dropping sunset was the perfect capper to the magnificent journey through some of the finest scenery Alaska had to offer.
| | | |
| --- | --- | --- |
| | | |
| If you can't get aboard, get a shingle! | Getting ready to head north | A mostly empty coach. Bonus! |
| | | |
| The misting rain produced a stunning rainbow | Taiga, tundra and a silt laden lake | Sun streaked artistry |
| | | |
| Reflecting on the beauty of the moment | Computer generated view of the Loop District | Tourist on the edge of their seats |
| | | |
| The old Loop District | First of five tunnels | Mother Nature at her enchanting best |
| | | |
| Along Turnagain Arm | Pastel colors produced by the setting sun | A stunning end to a magical day |
Casey picked me up at the Anchorage depot and transported me back to my hotel. I must confess I am very blessed to have such a devoted friend as Casey. He spent the past two days trying to make my trip extra special and he certainly did.