How to Become a Tour Guide
by Virginia Gray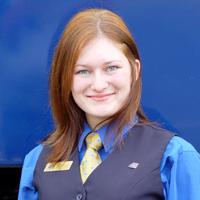 The Alaska Railroad Tour Guide Program is a school-business partnership with Alaska Railroad and Seward, Anchorage, and Fairbanks school districts. Since I was from Anchorage, I'll tell you about that.
The training course is open to all high school Juniors and Seniors. Around October or November, the applications for the course become available in the guidance office of each high school. Once the application deadline passes, the applications are reviewed and the most promising applications are called in for an interview. From the interview, approximately 20 students are chosen to take the training course, which is two hours a day after school, four days a week, for ten weeks.
During this time we learned about Alaska's history, geography, and wildlife; began learning the commentary for the train; spent one Saturday getting our CPR/First Aid certification and took numerous field trips. We took train rides to Talkeetna, Hurricane Gulch, and Seward. We learned about some of the different tours available, such as the Sea Life Center and wildlife cruises available in Seward, a couple different hotels, and flight-seeing tours in Talkeetna.
At the end of the ten weeks, everyone who still wants to be a tour guide (usually everybody) goes into Alaska Railroad headquarters for an individual interview. They ask why we want to be a tour guide and can we handle the long days on the train. They ask us to narrate a piece of our commentary of our choice, then one they choose at random. When everyone has gone through the interview process, about 15 or so are chosen to be tour guides for the next summer.
Those who don't make the final cut can usually get hired elsewhere in Alaska's tourism industry and do quite well due to the training received in the tour guiding class.
In 2003 the second year tour guide program was re-instated. Tour guides from the previous year were asked to submit a cover letter and resume if they were interested in coming back again. From those, the railroad selected three (including me!) to come back.
The purpose of having second years is to help mentor the new tour guides: Give help with commentary as needed, point out good landmarks, and be available for questions as they come.
Once a tour guide's time on the railroad is over (unfortunately, two years is the most we have), we can apply with the Alaska Railroad for other positions, or apply elsewhere in the tourism industry if we so desire.This is only accurate for Alaska Railroad tour guides. Royal Celebrity, Holland America/Grayline, and Princess all have links on their web sites for anyone to apply to be a tour guide. These companies require tour guides to be 21 or older, since the position is tour guide/bartender. Anyone interested in these jobs should apply around January of the year they would like to work, because these positions fill up quickly; usually everyone is done hiring by mid to late March.

© 2004 Virginia Gray