Anchorage Sand and Gravel
1040 O'Malley Road
Anchorage, AK 99515
Phone: 907-349-3333
Fax: 907-344-2844
Email: anchsand@anchsand.com
Website: http://www.anchsand.com/
Products: Concrete, Precast Concrete, Concrete Masonry, Asphalt, Gravel, Rebar

Overview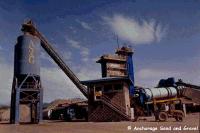 Anchorage Sand & Gravel (AS&G) Company has been providing quality construction products and services in the Alaska building industry since 1938. Our commitment to producing the highest quality products and customer service available has allowed us to expand into all aspects of the construction and building markets. Using the most innovative manufacturing methods, state of the art equipment, and a vast line of services, we have the ability and expertise to supply all residential and commercial needs. By this combination of experience and knowledge, it is easy to see why AS&G is called "The Performance Company".
Anchorage Sand and Gravel and the Alaska Railroad
AS&G ships only pit-run gravel from its pit on the Palmer Branchline 35 miles north of Anchorage. Transporting gravel for AS&G is the bread and butter commodity for the Alaska Railroad. Locomotive engineer and veteran gravel hauler Frank Dewey adds, "Regular train is 80 cars and 3 locomotives (2 SD70s) is used 24 hours a day and generates $16,000.00 profit on each turn, $32,000.00 each 24 hours. By far the most profitable train on the railroad it earns a lion's share of our annual budget." (See "Gravel Trains" story)


Gravel loading at Palmer Branchline
(Click on photo for a larger view)

| | | |
| --- | --- | --- |
| | | |
Excerpt from Alaska Railroad's 1997 Annual Report: "The original budget for 1997 called for shipping 2 million tons of gravel, but actual shipments were almost 50% higher than projections at 2.9 million tons. Trains were running 24 hours a day and for awhile, two train sets were running 24 hours a day."
Excerpt from Alaska Railroad's 1999 Annual Report: "Gravel had another record year with revenue increasing more than 27 percent."
Gravel unloading at Turnagain Siding
(Click on photo for a larger view)
Also see
V

ideo clip

(320x240, 1.4MB) of gravel unloading at the Turnagain siding

Anchorage gets stoned

- A movie how Anchorage Sand and Gravel gets gravel from Palmer by train and hauled off by local trucks for Anchorage building projects.
Page created10/25/00 and last updated 10/19/17