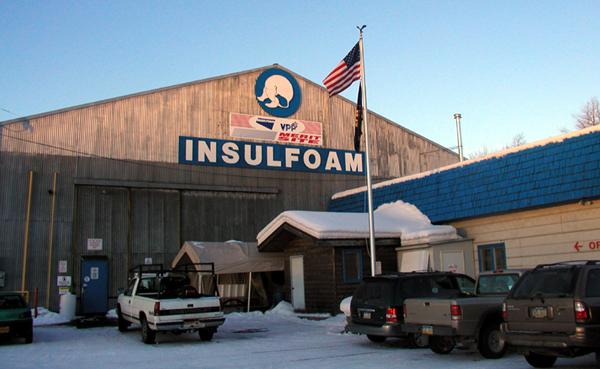 Insulfoam

INSULFOAM, a Division of Premier Industries, Inc. leases a large facility in the Alaska Railroad Yard Industrial area. The large stacks of finished products are very colorful additions to the yard scene wrapped in yellow and orange poly film. This facility is located between Ocean Dock and the Tesoro Bulk Plant along side the yard lead running down to the main Port of Anchorage. The track to the right continues to the Port and the left leg is the return loop which surrounds the Tesoro Bulk Plant and was built with concrete ties.
Insulfoam EPS Insulation products are produced in the Anchorage Plant, one of 13 around the country. They manufacture a wide variety of products for the construction industry. You can visit their web site at www.insulfoam.com. The plant receives all raw materials via truck and ship the low density high volume foam products out by truck. They do not have a rail dock or spur and do not generate any rail car loadings. They are still major customers of the Alaska Railroad as tenants on the leased property.
Modeler Note: Your model railroad could of course go after that business with some special rates. Loading could take place right next door at the SBS facility on the Ocean Dock stub track. The bundled product is normally packaged in 4X4X8 bundles with the colorfull poly wrappers which contain the company logo with the polar bear. The plant and bundled product would make fine backdrop flats. Maybe you can print these photos to achieve the proper perspective.
Page created 1/22/04 and last updated 1/22/04