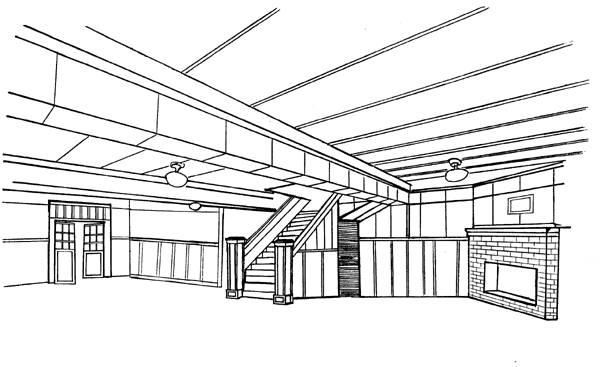 HOTEL LOBBY – LOOKING LEFT
Facing the hotel entrance door, looking outward, there was a 'period' walnut stained wood-and-glass phone booth, with the folding door, which didn't get much use. It was necessary to go to the ACS office, have them place the call, then go to the booth. Most just used a phone at the ACS office, itself. Calls were expensive, there was very little phone traffic. Curry didn't have anything in the way of a local phone system.
Walking into the hotel, through the main entrance, off to the right side of the lobby was the small 'traditional' check-in desk; with a small room behind. Behind that, there was another room, serving as the town Post Office - complete with the brass dial-type post office boxes.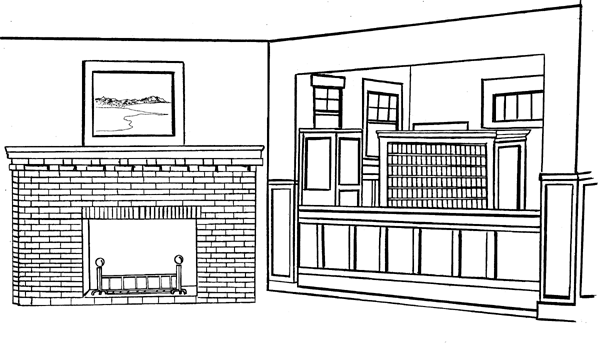 HOTEL LOBBY – LOOKING RIGHT
The check-in desk had been moved from across the lobby, adjacent to the dining room entrance. When the hallway was extended, the previous 'desk' area was walled in, making a small cocktail lounge. Previously, a men's' restroom had been located where the new check-in desk was installed.
Across the narrow hallway was the railroad office for buying train tickets, with an office featuring a telegraphy station a candle-stick phone and a typewriter. Mac McDonald was the 'station master.'
I think it was the summer of '56 that the railroad added a signal tower, in front of the bay window of the station master. The controls for the flags' were two large iron levers, installed in the floor of the station master's office.
To the north of that room was an office. If I remember correctly, there was a small freight elevator to the basement. To the north of that room, further, was a small room, big enough to hold a minimum of cargo and baggage, with a traditional railroad wooden baggage pull-cart. Beyond that, to the very north end, was the section of the main building, housing the ACS office. That contained a small desk and electronics work station with racks of electrical gear, presumably a telephone relay station. I don't remember much in the way of radio gear, but there were a couple of antennas, outside the hotel. The ACS team usually had four or five soldiers, total.
The hotel lobby had probably 30 deep-cushioned leather chairs, with chrome metal frames. They would be arranged 'conventionally' (back-to-back – in rows) in the daytime, then assembled for viewing the evening movies.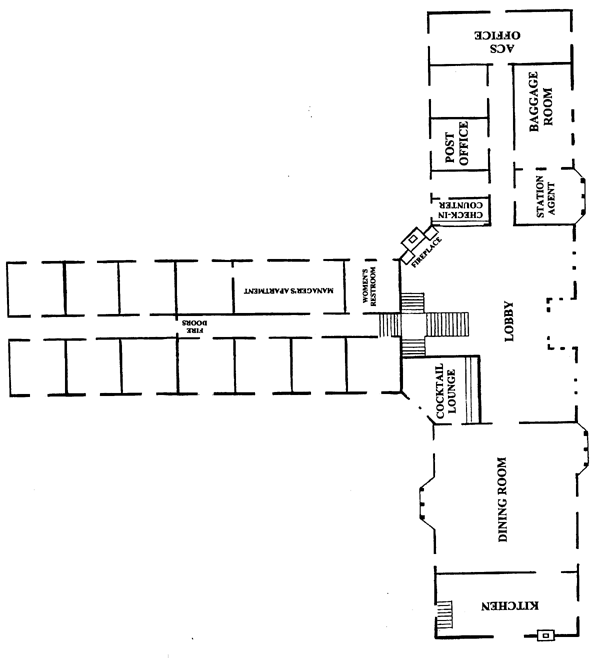 MAIN HOTEL FLOOR PLAN
(1957)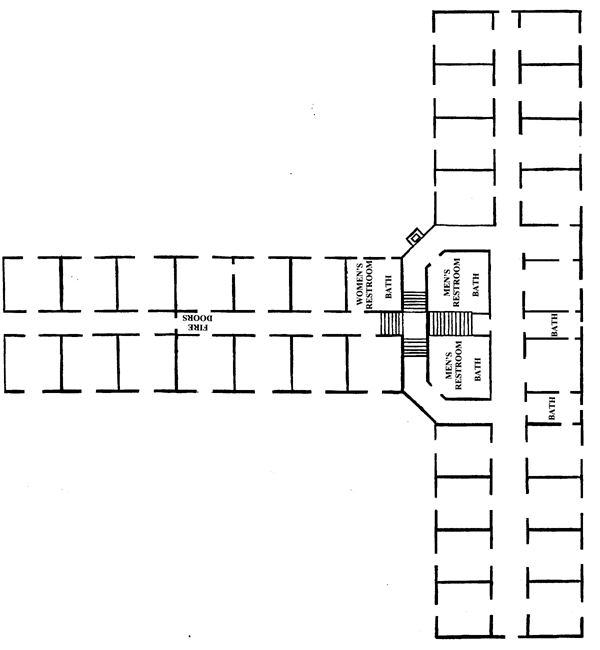 UPPER HOTEL FLOOR PLAN
(1957)