Speaking of Mrs. Pine – I nearly got myself killed! Dad had picked up a prank book, which would deliver an impressive shock, when opened. I thought it would be cool to show to Mrs. Pine. Fortunately, my mother saw what I was up to and nearly had a heart attack. Beyond the "electrical shock" aspect, the 'book' was labeled "NUDES," whatever they were – I didn't know! Leave it to a kid; Mom intervened in the nick of time.
The railroad had a problem keeping workers out of town. Many were alcoholics and hated the out-of-town work. That served to get approval for Dad to get a liquor license. A bar in Curry meant fewer sick-calls.
When we first arrived at Curry, the old cocktail lounge had been converted to a large storage room to the northwest end of the dining room; that again became the Bar. Curry had a night-life – again. (More associations with "The Shining!") By implication, when the hotel was leased, the "Railroad" liquor rights were lost. Dad installed a modern juke box, with the latest tunes, I can still hear Frankie Lane singing Jezebel, "Moonlight Gambler," "High Noon," "Jambalaya." Let's see, there was also "The Wayward Wind," "Sixteen Tons," "Let me Go Lover", "True Love", "Cindy, Oh Cindy", "The Great Pretender" "Come on A-My House;" That was "music!" During the day, the juke box would be rolled into the dining room, in the evening, it went into the bar. I can still remember the illuminated red and white number-letter keys.
Then one day, a really strange lady showed up, looking for a job. She was blonde, with something like four different splotches of color in her hair. Instantly, she became known as "the Parakeet;" but she didn't mind. Dad hired her as a waitress.
There were rumors that "Parakeet" was more than just a 'waitress.' Looking back, I don't find the 'rumors' tempting to debate. She always gave me the 'cute kid' treatment. If she'd been younger, maybe I would have gotten a secret crush on her. She was pretty enough and had a nice bod_ …. - oops! I guess I'll leave out the rest of the naked-lady stories; maybe.
Oh, to heck with it! Okay, one morning I discovered Parakeet passed out in one of the front-end upstairs rooms, after a night of partying. Mom's Victorian standards were enforced with a belt, so I didn't stick around, but Parakeet must have woken with a chill. Mom would have killed her, if she knew of my discovering Parakeet; her room was at the opposite end of the hotel. At my age, I couldn't fathom what a naked lady was doing in that part of the hotel. I assumed she got drunk and got lost. (I was eight years old, remember?) Come to think of it, a certain fella by the name of Don was in town, that week. Oh, did he have a thing for Parakeet!
Linda Blakely thought I was cute-stuff too. I guess she figured I was too young to notice 'women,' because … - another story best left alone. I guess Mexico had a pretty 'loose' society.
Maybe my raging-hormones of puberty dated back that far; it wouldn't surprise me. Those two gals were quite the visual education! They call Alaska "The Last Frontier," remember?
The Blakeleys stayed across the hall from the Parakeet. I remember that the two Linda's became pretty good friends. I think Linda's husband, Jim, had a jealous streak, so Parakeet became a default friendship.
The ski slopes didn't get a lot of use. The hotel had a supply of the pre-binding type of skis, with the stretchable boot heel-spring; add the bamboo ski-poles. Occasionally, the GIs would get bored and go for a couple of runs. The rope-tow was in total disuse, so they had to side-step up the slopes. One of them, Andy Anderson, actually did a few trips over the ski-jump. From a kid's perspective, that was exciting! Come to think of it, the adults were impressed, too.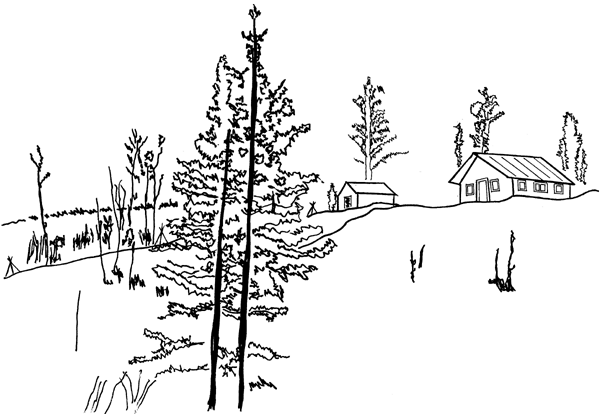 "FIRST-AID CABIN" AND ROPE-TOW ENGINE HOUSE
Just before we moved from Curry, a local wife (name forgotten) had a set of skis that I could put on. Naturally, I had to stretch my wings. I made my only two trips down a ski slope, dodging brush and trees with some bizarre assistance from God; as I can't otherwise account for not killing myself by hitting the brush. I can't remember how, but I got 'busted.' That cost me two weeks of being grounded – for going skiing by myself. (Today, people would ask how anyone could be anything BUT 'grounded,' living in such a small place!) Anyway, that was my last temptation to downhill ski!
I went out doing trail skiing, afterward, but I made the mistake of following Nina – who didn't want a tag-along. Darn her, she threw me down in the snow and washed my face with snow. But, she warned me to quit following her - my fault. That was enough; I quit borrowing the skis. Between my mom grounding me and Nina ' …teaching me a lesson,' I probably missed out on at least one broken leg.
We had two weddings at Curry, while I was there. Andy Anderson married Betsy Brooks – another brown-eyed beauty – but Andy beat me to her, I didn't have time to develop a crush. Man, being only eight years old can be a real disadvantage!
Andy was a guy of tremendous art talent. He was an artist and musician. I remember him routinely building model airplanes, even converting one to a gas-engine "U-control" flying version.
I think it was the summer of '57 that a Vacation Bible School group came to Curry. Mrs. Brooks, Betsy and Andy helped out with that. That was cool. They sponsored a contest with prizes, requiring that the kids recite a piece of scripture. I wasn't all that 'into' such, but at the last minute, Andy bailed me out with, "Follow me and I will make you fishers of men." I got my prize – a model airplane. It was a T-28! I built it myself. I can't remember why mom was so distant from that affair. Being a preacher's daughter, she should have had me loaded with scripture – or so one would think.
Then another GI, Terry Bruce married Anna Nikolai, an Athabascan daughter of a railroad worker. She was pretty enough, but for some reason, I never had a crush on her. She was cool; I remember that. Anna was barely old enough to get married with parental consent. She and Terry got married in Anchorage; after Terry transferred out. I never heard of them again. I don't think she was pregnant; she just wanted a life of her own.
AND – it was Terry who taught me to shoot his .22 revolver! – Oh, what a thrill that was. That's about as manly as an 8-yr old can feel!